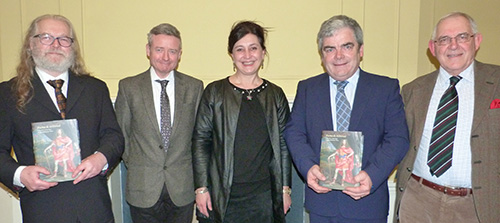 The audience that gathered last night for the launch of the 17th-century Latin epic Poema de Hibernia reflected the dual appeal of this manuscript source. One of the few complete Latin epics from the early modern period for Ireland, the interest in this source has been broadened by the scholarly translation of the text provided by Keith Sidwell. Pictured right are Keith Sidwell (joint editor), John McCafferty (IMC chairman), Anna Chahoud (Professor of Classics at TCD), Pádraig Lenihan (joint editor) and Harman Murtagh (Visiting Fellow at Athlone Institute of Technology).
Commenting on the Latin text, Professor Chahoud said how the author would have chosen the epic form as a prestigious way to communicate his view of contemporary subjects. She added that the editors had done justice to the Neo Latin text and provided a wonderfully readable translation. Analysing the translation further, Dr Murtagh said that this edition was a worthy addition to the Jacobite sources already published by IMC. He continued that while the author was clearly classically educated and outward looking, it was quite clear that he was deeply saddened by events which had happened. He concluded by saying that the text was a very fluent one and the notes provided by the editors were a superb resource for anyone reading the text, which he commended to the audience.
Dr Padraig Lenihan thanked the launchers, but also James McGuire, former chairman of IMC, for his meticulous work in copyediting the edition for publication. Professor Keith Sidwell concluded proceedings by reading a passage from the Latin text which captured the author's sadness at watching the departing armies leaving for France.
This text is available for purchase here.