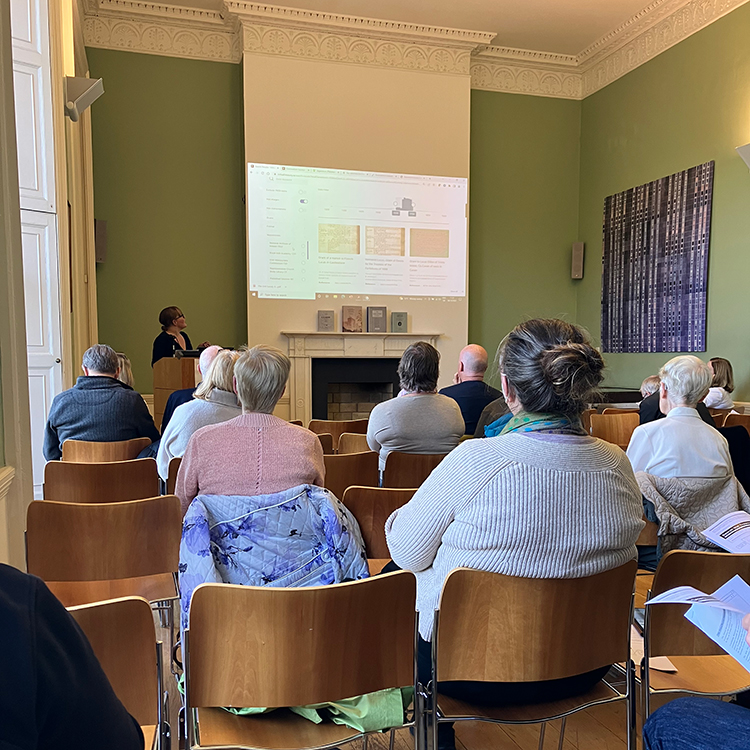 On 8th October, as part of this year's Festival of History,  IMC held a workshop on how to explore the Books of Survey and Distribution (BSD) in the Cromwellian Gold Seam in the Virtual Record Treasury of Ireland.
Members of the public were welcomed to this event at 45 Merrion Square where IMC members Professor Marian Lyons and genealogist Nicola Morris (pictured above) set the BSD in context of the other well-known 17th century surveys and demonstrated various approaches to searching for people and places in the BSD.
The examples they demonstrated showed how to: optimise and use the various Image Viewer settings and browse results within the viewer; compare results from a simple keyword search with results from searching within a source; exclude certain kinds of data to narrow results; restrict results by narrowing the date range; use the Advanced Search and Fuzzy Search options to compensate for 17th-century spelling! The workshop also demonstrated how to view two digital sources at the same time in the Image Viewer — for example a Down Survey map alongside a manuscript page from the BSD describing the same townlands. The handout illustrating these techniques is now available to download here.
To coincide with the IMC event our friends at the VRTI shared a number of complementary "How to" videos which can be found on their YouTube channel.
The Festival of History, organised by Dublin City Library and Archive, takes place annually in September–October and the Irish Manuscripts Commission has been taking part since 2020. You can see previous contributions to the Festival from IMC editors (2020) and members (2021) on our YouTube channel.