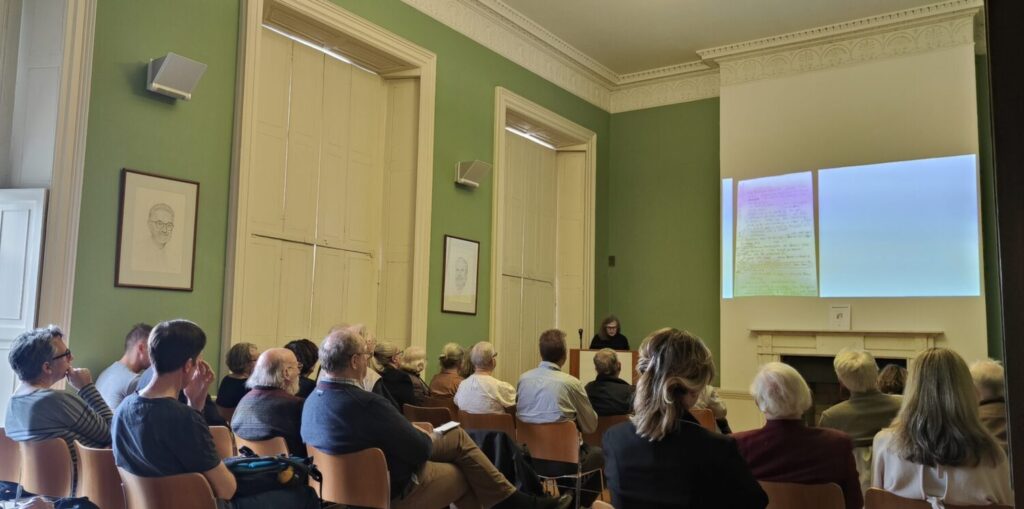 On 7 October, as part of this year's Festival of History, the Irish Manuscripts Commission held a lecture "Reading the Unreadable – Ernie O'Malley's notebooks". Members of the public were welcomed to this event in 45 Merrion Square where Prof Anne Dolan and Dr Eve Morrison presented their work on the transcription of Ernie O'Malley's notebooks.
After Dr Morrison had discussed the importance of these notebooks as a primary source, Prof Dolan presented ground-breaking new software Transkribus, highlighting both its power and its limitations with regard to the transcription of O'Malley's extensive notebooks. This software's ability to learn and adapt allows it to interpret O'Malley's notoriously illegible writing quickly and to high levels of accuracy, making it an integral part of IMC's project to publish his notebooks in full. However, Prof Dolan noted, it cannot ascribe meaning or context to either the text or punctuation, or interpret the sketches and diagrams which O'Malley often included in his notes. 
The fully transcribed notebooks of Ernie O'Malley will be published in eight volumes by the Irish Manuscripts Commission from 2024 onwards.