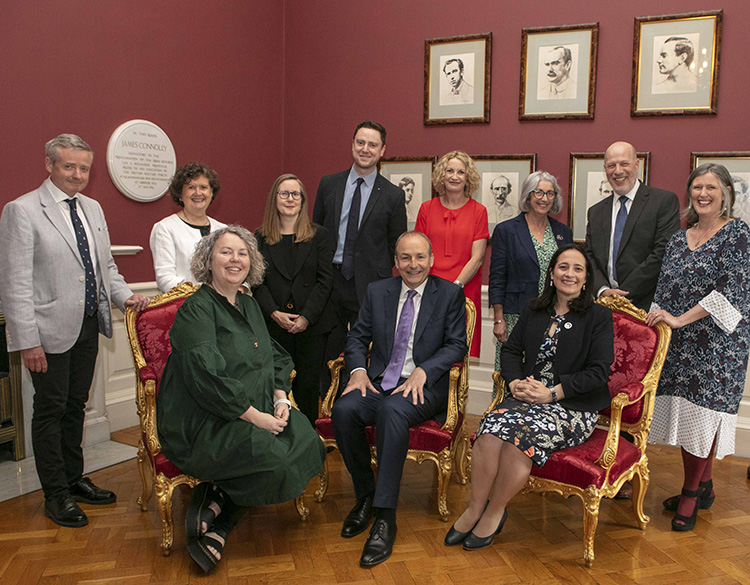 On Monday 27 June 2022 the Virtual Record Treasury of Ireland was launched by An Taoiseach Michaél Martin at an event in Dublin Castle.
The launch of the Virtual Treasury is the culmination of five years of a state-funded research programme entitled Beyond 2022. The aim of the project was to re-create through virtual reality the buildings and archival collections of the Public Record Office of Ireland which were destroyed in the opening engagement of the Irish Civil War on 30 June 1922.
Combining historical investigation, archival conservation and technical innovation, the lost archive— which contained records for seven centuries of Irish history — has been re-created through digital technology. The project has reassembled a growing treasury of originals and also replacement copies of documents tracked down in over 70 archives from Ireland and the UK and as far away as America and Australia. What is presented now to the Irish public is a vast online resource with over 50 million words of searchable text, over 6,000 maps, 150,000 database records and 2.7 million linked-data entities.
The Irish Manuscripts Commission is proud to be a Core Partner in the Beyond 2022 project. IMC has contributed digital copies of a host of its 208 publications to the Virtual Record Treasury — most notably The Proclamations of Ireland 1660–1820 (5 vols, 2014) edited by James Kelly and Marian Lyons, The Civil Survey, 1654–1656 (10 vols, 1931–1961) edited by Robert Simington, and the results of an IMC-sponsored project with TCD, to digitise the contents of the Books of Survey and Distribution, an extensive seventeenth-century survey of land and its owners. The latter sources along with the Down Survey form a 'gold seam' of data entitled Cromwellian surveys.
Pictured above are some members of the project team and the International Cultural and Scientific Advisory Panel with distinguished guests at the launch. Back row (left to right): Professor John McCafferty (Chair, Irish Manuscripts Commission); Helen Shenton (The Librarian, Trinity College Dublin Library); Professor Lorna Hughes, Chair of the Advisory Panel (Chair of Digital Humanities, School of Information Studies, University of Glasgow); Dr Peter Crooks (Founding Director of Beyond 2022); Orlaith McBride (Director, National Archives of Ireland); Heather Stanley (Acting Director, Public Record Office of Northern Ireland); Jeff James (CEO/Keeper, The National Archives UK); Zoë Reid (Keeper, Public Services and Collections, National Archives of Ireland). Front row (left to right): Dr Linda Doyle (Provost, Trinity College Dublin); An Taoiseach Micheál Martin, TD; Minister Catherine Martin, TD, Minister for Tourism, Culture, Arts, Gaeltacht, Sport and Media.