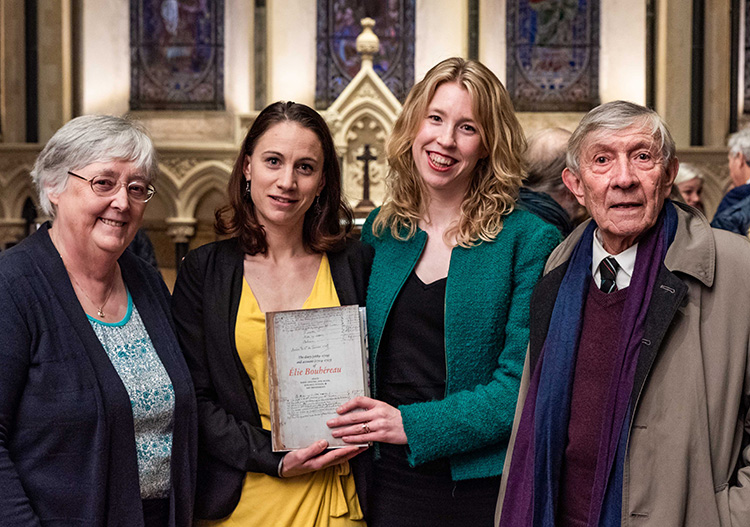 On the 16th November the edition of the diary and accounts of Élie Bouhéreau edited by (left to right above) Jane McKee, Marie Léoutre, Amy Prendergast and Jean-Paul Pittion was launched by M. Lionel Paradisi-Coulouma, Deputy Head of Mission at the French Embassy to Ireland in the Lady Chapel of St Patrick's Cathedral, Dublin.
The Chair of the Irish Manuscripts Commission, Professor John McCafferty (pictured below) spoke of the IMC's remit to preserve in print primary sources such as the Bouhéreau manuscript. He outlined how they help to piece together how life was lived for a cross section of Irish society and how the availability of such materials enables historians to reconstruct and write about the past.
Monsieur Paradisi-Coulouma (pictured below) spoke very movingly of the many things which bound France and Ireland at the time Bouhéreau was writing, but which still bind our counties today. Descendants of Élie Bouhéreau not only sponsored the reception, but also spoke at the launch and warmly commended the editors for the excellent job they had done in transcribing and translating this work for publication. The launch was organised by Dr Jason McElligott, Keeper of Marsh's Library, where the manuscript is kept, but also where Bouhéreau was the first librarian. While it was a memorable evening, the event was made more fitting by the fact that Élie Bouhéreau and his beloved wife are buried in the Lady Chapel which was their place of worship when they lived in Dublin.
This edition presents the French text on the left and the translation on the facing page for Bouhéreau's diary covering the period 1689–1719 and his meticulous accounts for the period 1704–1717. You can buy this edition here.