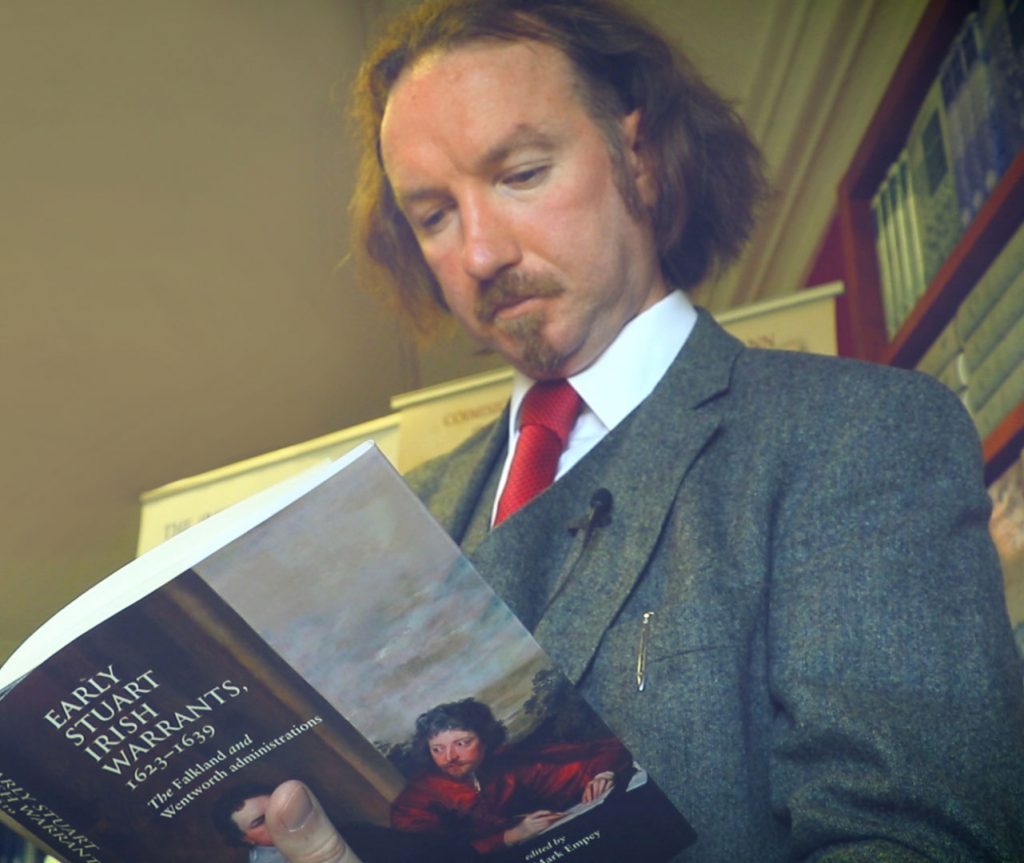 In the first tranche of short films for the Dublin Festival of History 2021, IMC presents the favourite picks of historians who have chosen IMC editions in which the sources reveal information about contemporary society and culture.
Dr Coleman Dennehy, a legal historian working on crime and punishment in 17th century Ireland, talks about how he has used the sources from four different IMC editions to write about crime and punishment in Ireland in the 16th and 17th centuries. In extracts read from Mark Empey's 2015 edition Early Stuart Irish warrants, 1623–1639: the Falkland and Wentworth administrations and Margaret Curtis-Clayton's 2008 edition of The council book for the province of Munster, c. 1599–1649 we see the difference in treatment for those whom society and government in early 17th-century Ireland regarded as the deserving as opposed to undeserving poor and how the law as applied to people of means was different to that applied to the poor. The administrative records in Edmund Curtis's Calendar of Ormond Deeds published in six volumes between 1933 and 1943, record among other things the resolution of a land dispute in the Liberties of Tipperary in a court which included a woman and Gaelic Irish judges. The invaluable source that is J. L. Hughes' Patentee Officers in Ireland is a list of people appointed to administrative office in Ireland from medieval times through to the early 19th century. It was compiled from a variety of sources and, as Coleman explains, the list enables historians not only to accurately identify office-holders but also to study how roles were sometimes passed on within families.
Professor David Dickson is known to many as a historian of the development of urban Ireland, in particular the cities of Dublin and Belfast. He has chosen to talk about two of his favourite IMC editions — The Drennan-McTier letters, 1776–1819 edited by Jean Agnew and published in three volumes in 1998–9 and Edward MacLysaght's 1942 edition of The Kenmare manuscripts. David's passion for these editions is very striking, not alone for what they reveal about the subjects of the respective sources, but also the sheer volume of work they encompass and, in the case of MacLysaght's edition, the fact that some of the original material is now lost and the transcripts in the IMC text are the only remaining record of these lost documents.
Dr Peter Crooks and members of the Beyond 2022 team — Dr Paul Dryburgh, Dr Elizabeth Biggs and Dr Lynn Kilgallon — have chosen as their favourite IMC edition a medieval text entitled Irish Exchequer payments, 1270–1446 edited by Philomena Connolly and published in 1998. While this piece clearly pays homage to the incredible work which went into calendaring these late medieval Exchequer records, the Beyond 2022 team give us a glimpse into how the extensive information contained in this edition can be digitised and linked to other existing information to create an enriched view of the various contexts in which these records existed. Don't miss Lynn Kilgallon's demonstration of the power of the Knowledge Graph and Linked Data, it is fascinating!