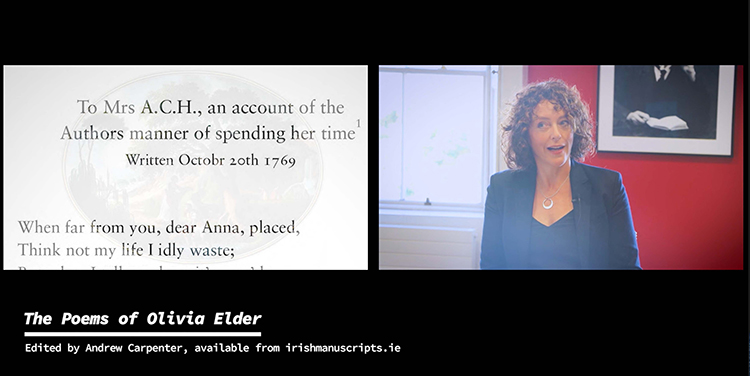 As part of its 2021 contribution to the Dublin Festival of History IMC presents two short films on the theme of primary sources for gender and social history.
In the first of these Professor Sarah Prescott, whose research interests are in seventeenth- and eighteenth-century women's writing has chosen as her favourite IMC edition The poems of Olivia Elder which was edited by Andrew Carpenter and published in 2017.
Professor Prescott explains how these poems, which were handed down in manuscript form within Olivia Elder's family, are a rare survival for eighteenth-century women's writing. Representing a woman in the lower middle class, Olivia Elder's poems document the tension between the social reality of her existence as a woman on a working farm and her aspirations to be a published poetess. Reading extracts from some of the poems, Professor Prescott shows how Olivia's poems respond to her immediate circumstances but also transcend the moment to describe situations to which we can all relate over 200 years later.