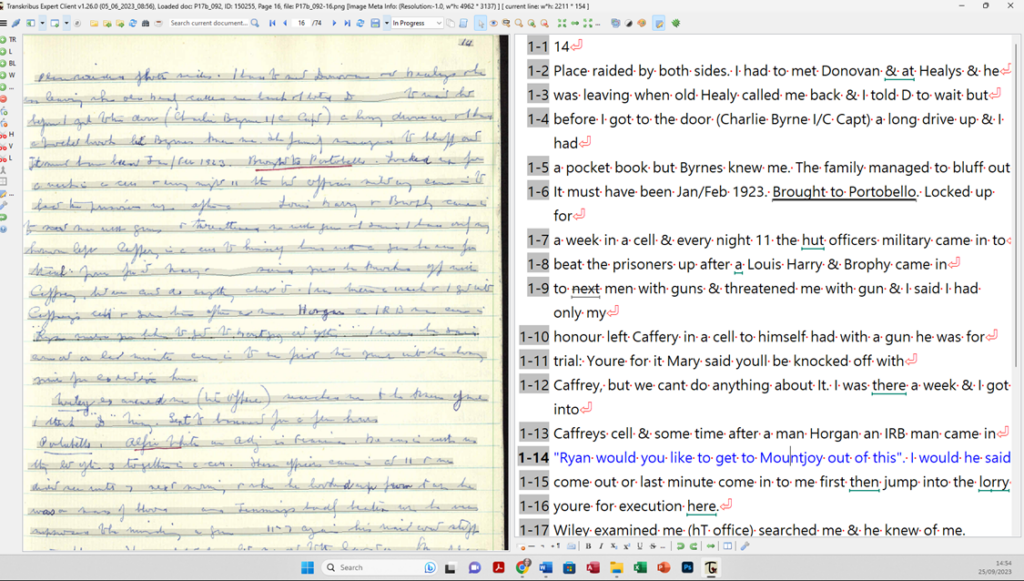 IMC's contribution to the 2023 Festival of History will take place this Saturday, 7 October at 12 noon in the First Floor Lecture Theatre of 45 Merrion Square.
This public lecture — entitled "Reading the Unreadable — Ernie O'Malley's notebooks" — will be given by Drs Anne Dolan (TCD) and Eve Morrison (UCD).
This event is free. Booking is not required but places are limited to 55 and will be allocated on a first come, first served basis.
In the 95 years since it was established by the President of the Executive Council of the Irish Free State in response to the burning of the Four Courts and the aching loss of many historical records, the Irish Manuscripts Commission has worked to make available the local, national, private and public primary sources for the history of Ireland and its peoples.
Its continuing work is to provide edited sources — in print and latterly online — for use as the basis for the understanding and the writing of Irish history.
A look through IMC's publications is to see Irish history through the eyes of the people who were there. Ernie O'Malley was one of those people.
Ernie O'Malley (1897–1957) was a revolutionary and writer born in Castlebar, Co. Mayo, whose family moved to Dublin in 1906. He joined the Irish Volunteers in the wake of the 1916 Rising and went on to become a leading figure in the Irish Republican Army during the Irish Revolution being appointed assistant chief of staff of the anti-treaty IRA in the civil war.
He decided not to devote his post-revolutionary career to politics and instead travelled in France, Spain and Italy in 1924–6 and then in 1928–35 travelled throughout north America, including New Mexico and Mexico City. O'Malley wrote two well-known autobiographies but equally importantly from the 1930s up to 1954 he interviewed around 450 radical nationalist veterans of the War of Independence and the Civil War, most of them former members of the IRA. His interview notebooks record the experiences of his interviewees in gritty and graphic detail.
Despite the enormous historical value of these transcripts they are under-used due to O'Malley's notoriously illegible handwriting. However, with ground-breaking new transcription software Transkribus a project at UCD Archives is underway to fully transcribe the contents of these notebooks. The picture above illustrates to the left an open page of one of O'Malley's notebooks and to the right computer-generated text which the editors are reading and amending.
The full text of the transcriptions will be published by the Irish Manuscripts Commission in an 8 volume-edition from 2024 onwards.
This public lecture will unveil details of the transcription project and highlight the importance of this exciting new software, as well as discussing the contents of the notebooks themselves and their value for Irish historians.
You can read more about the 2023 Festival of History and find other free events here.