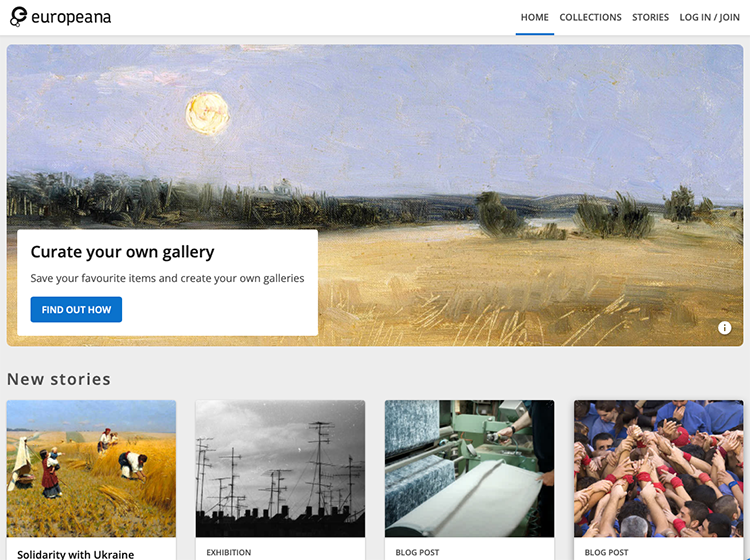 "Europeana empowers the cultural heritage sector in its digital transformation. We develop expertise, tools and policies to embrace digital change and encourage partnerships that foster innovation."
Europeana shares and promotes European cultural heritage to be used and enjoyed by everyone for learning, for work or just for fun. Between 2010 and 2015, the Irish Manuscripts Commission was a national content aggregator for the Europeana portal, a role now performed by the Digital Repository of Ireland.
The portal provides cultural heritage enthusiasts, professionals, teachers and researchers with digital access to material from a huge variety of cultural heritage institutions from across Europe. Discover artworks, books, music and videos on art, newspapers, archaeology, fashion, science and sport.
Europeana's mission is to inspire and inform fresh perspectives and open conversations about our history and culture, to share and enjoy our rich cultural heritage and to use it to create new things.
Check out the curated online exhibitions looking at topics such as  'Mass media and propaganda in 20th-century Europe' and a study of European globalisation through images. There is also a lively blog which discusses everything from 'The not so dark Middle Ages' to 'The Venice Film Festival' and much, much more. If images are your thing, why not take a look at the galleries of images gathered under topics including  'Yellow', 'Basketball', 'On public transport', 'Medieval coins', 'Female literacy in the Middle Ages' and 'Monastic rules and similar formative texts'.
Most of all, enjoy this massive resource of free cultural heritage content!