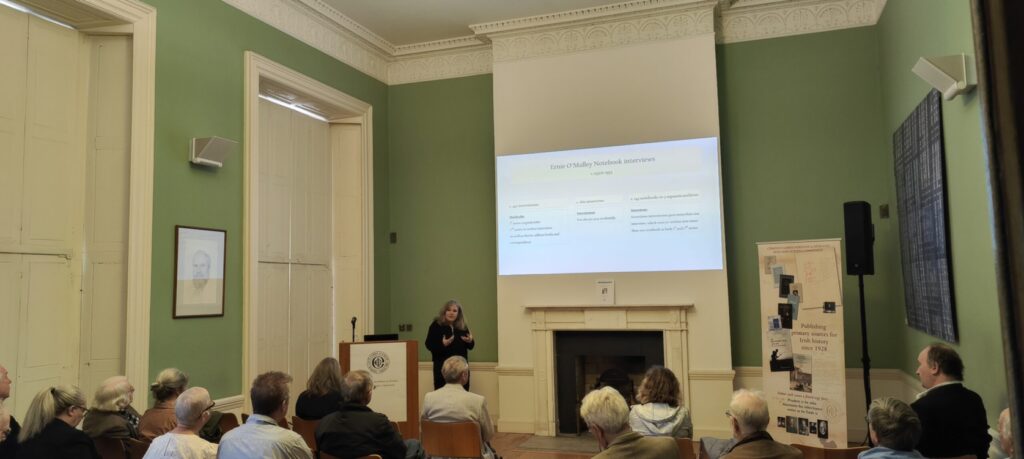 On 7 October, as part of this year's Festival of History, the Irish Manuscripts Commission held a lecture "Reading the Unreadable – Ernie O'Malley's notebooks". Members of the public were welcomed to this event in 45 Merrion Square where Prof Anne Dolan and Dr Eve Morrison presented their work on the transcription of Ernie O'Malley's notebooks.
Dr Morrison discussed the work of O'Malley and the unique perspectives he recorded from the Irish Civil War through his interviews with veterans. An Irish revolutionary himself who joined the Irish Volunteers in 1918 and later served as a member of the Anti-treaty Army Council, O'Malley noted "I thought it better to collect the information, because in Ireland the men will tell me the truth about themselves." From the 1930s to 1953 O'Malley interviewed c. 450 veterans which he recorded in his notebooks in gritty and graphic detail. Despite the enormous historical value of these transcripts they are under-used due to O'Malley's notoriously illegible handwriting. Dr Morrison and Prof Dolan have therefore employed ground-breaking new software called Transkribus to aid in the deciphering of O'Malley's work, the use of which was presented by Prof Dolan.
The fully transcribed notebooks of Ernie O'Malley will be published in eight volumes by the Irish Manuscripts Commission from 2024 onwards.