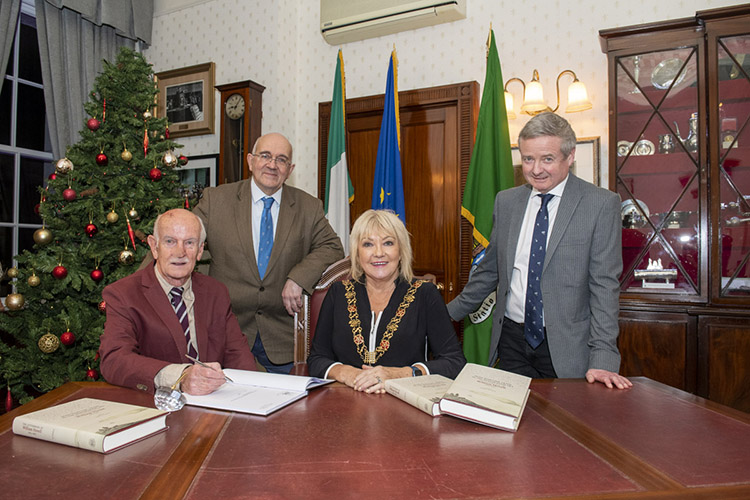 The launch of the latest IMC edition — Irish maritime trade in the Restoration era: the letterbook of William Hovel, 1683–1687 — took place last night in City Hall, Cork.
The Lord Mayor of Cork, Councillor Deirdre Forde, welcomed guests to the beautiful Council Chambers and outlined her appreciation of the Hovell edition which added to the information about Cork at a critical point in the development of the city and the port. She added that the activities of the business community of which William Hovell was a member were central to that development.
Launching the book, Professor David Hayton (QUB and IMC member) pointed out the uniqueness of the Hovell letterbook both in terms of its survival but also as an intimate record of the life and business activities of a seventeenth-century merchant in a city outside of Dublin, which was well-documented. He complimented James O'Shea on what was a difficult job of transcription but his labours ultimately meant the contents of the letterbook were now readily available for study by a much wider audience. Including identification of obscure individuals along with explanations of the technical terms around trade and measurements at that time, the edition also reveals the breadth of Hovell's trading interests and connexions as well as his view of the changing political situation in Ireland. Professor Hayton commended the edition to the gathered audience.
Responding to Professor Hayton, the editor, James O'Shea spoke of his delight at bringing this text into print and entertained the audience with information about William Hovell's descendants and their link with the modern Cork place name of Mount Ovel.
Thanking everyone for coming out on what was a very wet night the IMC Chair Professor John McCafferty congratulated Mr O'Shea on the publication of his edition.
Images left to right: The Lord Mayor of Cork, Cllr. Deirdre Forde; Professor David Hayton; Mr James O'Shea; Professor John McCafferty. All images by Brian Lougheed.