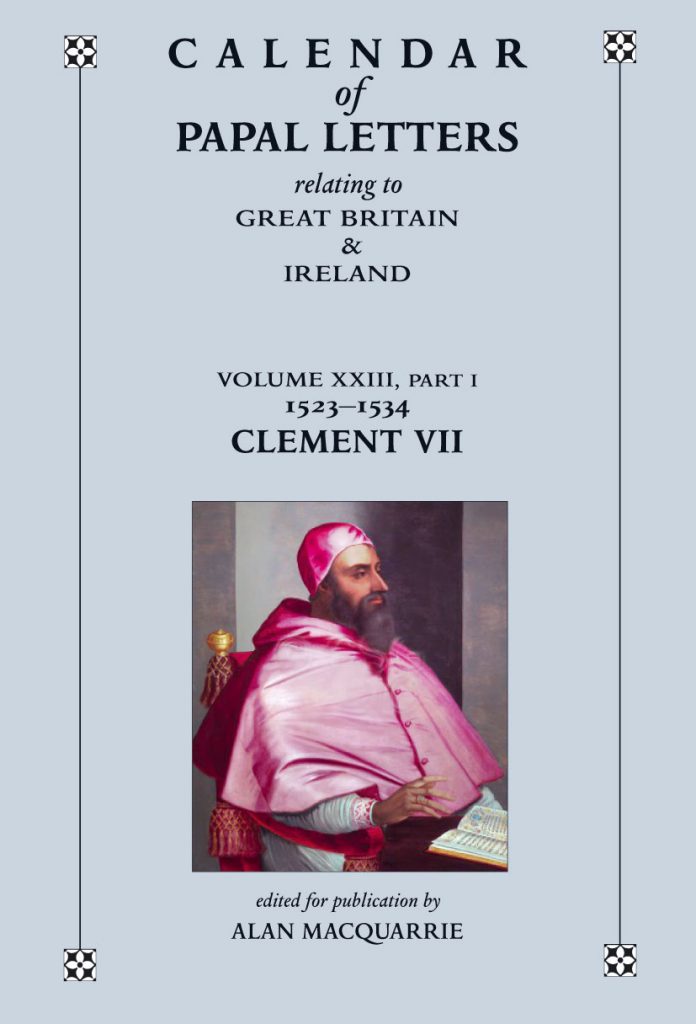 IMC is delighted to announce the publication of the final volume in the Calendar of Papal Registers series. The volume will be published in two parts. Vol. 23, part 1 has been edited for publication by Alan Macquarrie.
The Papal Registers preserved in the Vatican Archives cover the period from the 12th century to the 16th century. They constitute and almost continuous record of bulls, rescripts, and less formal letters between the Papal Curia and royal, noble and more humble personages. They also contain diplomatic mandates concerning ecclesiastical appointments, confirmations of monastic foundations and endowments, privileges, dispensations and exemptions for laymen and clerics and a vast amount of miscellaneous matter arising out of the administrative and judicial activity of the Church and the Papal Curia. As such, these are essential background papers for students of the reformation.
This volume of papal letters covers the first tranche of the Lateran Registers for the momentous pontificate of Clement VII (1523–1534), and brings to light a great mass of information — biographical, topographical and political — about the churches in Great Britain and Ireland on the eve of Henry VIII's break with Rome. The letters imply a constant traffic between these islands and the Curia, and provide valuable insights into relations between the national churches and the papacy. Especially striking are the differences between the types of legal transactions engaged in within the churches in the different parts of these islands. These are essential background papers for students of the Reformation.
Vol. 23, Part 1 is available to purchase here. Other volumes in the series which are still available are listed here.