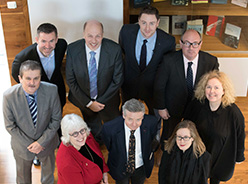 The Irish Manuscripts Commission is delighted to be a partner in the 'Beyond 2022: Ireland's Virtual Record Treasury' project. The project, based in Trinity College Dublin, was launched today.
Pictured at the launch are (back, L-R) Dr Séamus Lawless, Assistant Professor, ADAPT Centre and School of Computer Science, Trinity; Jeff James Chief Executive and Keeper of The National Archives (UK); Dr Peter Crooks, Assistant Professor, School of Histories and Humanities, Trinity; John McDonough, Director of the National Archives of Ireland. (front, L-R) Michael Willis, Director and Deputy Keeper of the Records, Public Records Office of Northern Ireland; Professor Jane Ohlmeyer, Director of the Trinity Long Room Hub; John, McCafferty Chair, Irish Manuscripts Commission; Lorna Hughes, Professor in Digital Humanities, University of Glasgow and Chair of Beyond 2022's External Advisory Board and Professor Linda Doyle, Dean of Research, Trinity.
For more information about the project please see here.